GReD S.r.l.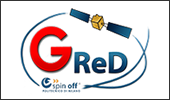 Activity
Consulting services in the geomatics field to support industry and government institutions to better address and lead innovative projects
Algorithms and software development to perform top edge geomatics solutions according to the customers' needs and objectives
Solutions and services for geodetic monitoring in the frame of critical infrastructures and natural hazards based on multiconstellation low-cost receivers
Services
GeoGuard is an innovative end-to-end service for the continuous monitoring of critical infrastructure and natural hazards. It includes activities and systems designed for the delivery of solutions, customized to different application scenarios, to provide accurate positioning with centimeter-level accuracy in near real-time, or millimiter-level accuracy for daily/sub-daily solutions. GeoGuard is designed to face and to respond to social and to industrial challenges, such as:
safety of critical infrastructures (bridges, railways, water tanks, towers, dams, wind farms, etc.)
natural hazards (subsidence, landslides, river floods, extreme weather events, etc.)
Target market
Oil & Gas, Energy & Utilities, Infrastructures, Land Administration, Weather Forecasting.
Contact
Web