SXT - Sistemi per Telemedicina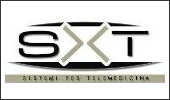 Activity
The company implements and manufactures electronic systems for medical and general biological signal monitoring applications. These polygraphic systems are compact and portable for use with traditional clinical or tissue sensors. The applications of these systems are characterised by high technological and innovative content and are addressed to telemedicine services (e.g. home monitoring, ADI, polygraphic holter systems), to sport and fitness (e.g. technological support for training programmes of sports professionals and semi-professionals), to the development of augmentative interfaces for support to the disabled.
Products
Phedra, multifunctional polygraph for clinical and home monitoring
Protheo, portable system for movement monitoring
Dahlia, low-end polygraph for sport, fitness and home applications
Target Market
Electro-medical systems for clinical, sport and home monitoring.
Contact